Welcome to Year 1

Our teacher is Miss Hutchinson and our Teaching Assistant is Miss Pickup.
On this page you will find links to our Long Term Plan and lots of other exciting things we have done this year.
If parents have any questions for Miss Hutchinson please email molly.hutchinson@kirkleeseducation.uk
or message me on Class Dojo
Links:
Class News and Activities
Wise Owl Birds of Prey Rescue
On Friday 11th June, Wise Owl Birds of Prey Rescue came to visit us in school. They brought lots of different birds with them and told us all about when they sleep, what they eat - they even let some of the birds fly around the hall. We also got chance to hold some of the birds!
Easter 2021
This week we have been learning and writing the Easter Story. Check out our performance of the story with actions.
World Book Day 2021
Today we celebrated World Book Day by dressing up as our favourite book characters. We wrote book reviews, described our characters and completed a character quiz. Who is your favourite book character?
UFO crash
This week we found lots of objects in the wild area which seemed to have come from a spaceship. When we investigated further we found that a UFO had crashed. We think it belongs to a little yellow alien called Beegu.
Merry Christmas!
In addition to our Christmas production, Class 1 have a special Christmas treat for everyone. Sing along if you know the words!
Christmas Production
As we're sure you have heard, we have been busy preparing something special in place of our usual Christmas show this year. The full production will not be revealed just yet, but here is a sneak peak of some of our children in their costumes.
Post Box Trip
Today we wrote letters to Father Christmas to tell him about how hard we have been working and to ask him to read us a story next week. We addressed our envelopes carefully and we made sure we stuck our stamp in the right places. We walked to the postbox to post our letters. We hope Santa likes them!
The Owl Who Was Afraid of the Dark
This week we are going to be writing the story of the Owl Who Was Afraid of the Dark. We have learnt actions to go with the words of the story to help us remember our sentences when we write them. Check out our performance of the actions.
"This isn't a pilgrimage, it's a fungrimage!" - Pilgrimage 2020
We had a fantastic time walking to Blackmoorfoot Reservoir on our pilgrimage. We saw cows, horses, goats and sheep on the way and got an amazing view of the Colne Valley. When we arrived we had a prayer and a talk with Mrs Travis before looking at the reservoir. We had such a super time that one of our children said "this isn't a pilgrimage, it's a fungrimage!"
The Owl Who Was Afraid of the Dark
Check out our amazing owls and descriptions. We had a hoot making them!
Remembrance Week
This week we made poppies to remember what happened in the great wars of the past. We thought about the soldiers and how poppies show that nice things can happen after sad things, like the poppies growing in the battlefields.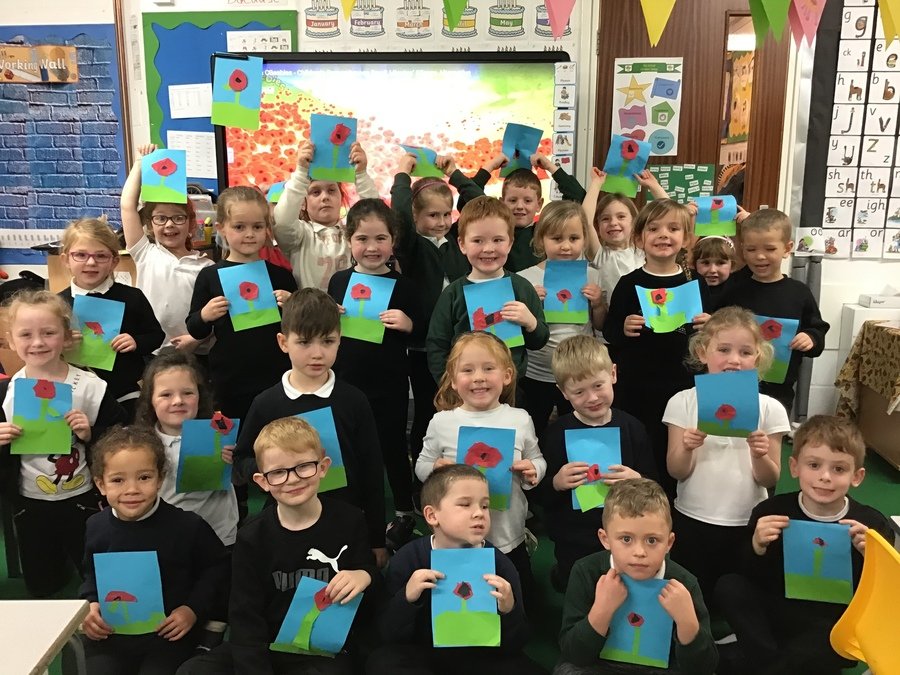 Bonfire Night Pictures - 6/11/20
We might not have been able to go to a big bonfire celebration this year, but we still had some amazing fireworks and bright bonfires in class 1. Check out our chalk and soft pastel pictures and amazing description of bonfire night!
Halloween Spiders 22/10/20
Check out our spooky Halloween spiders! We had great fun using our cutting, collaging and sticking skills to make some truly terrifying beasts!
Outdoor Learning Autumn Term- 20/10/20
Today we have been using our senses to find signs of Autumn around the school and in the wild area. We saw leaves changing colour, heard the wind blowing in the trees, felt the soft and wet ground, smelt pine cones and could taste the cold air on our tongues!