What we are Working on in English at Linthwaite Ardron CE

As part of our school improvement plan we are working on English across the curriculum, with a focus on specific aspects such as;
securing phonic knowledge in all our children, enabling them to read age-appropriate texts with fluency and understanding
improving outcomes in English, so that we are in line, or better, than attainment nationally and so that our children are prepared for their next steps or stage of learning
developing a system for when remote learning is required, where learning and assessment of pupil progress leads to continued progression when children are not in school
Why are these our priorities?

Phonics –in 2018/2019, the Year One data showed results that were above Kirklees and national averages for the last 3 years, but a declining 3 year trend. Monitoring the impact of initiatives introduced to reverse this trend has been a priority, but this remains an area for continued development.
As the foundation for success across the wider curriculum, developing English skills will continue to be our priority across school and across the curriculum.
Key Stage Two – In 2018/2019, despite average progress in reading, writing and maths, attainment fell into the lowest quartile of schools. Pupils achieving R, W and M and pupils achieving the higher standard of R, W and M were also well below national standards. In 2019/ 2020, KS2 teacher assessment and regular monitoring showed significant improvement, but KS2 pupil attainment remains an area for continued development.
Key Stage One – In 2018/2019 data was consistent with LA. Maths was identified as a strength and writing, although in line with Kirklees, was the area identified for continued development. There has been a keen focus on tracking pupils so that they achieve expected levels in R, W and M and remains an area of continued development.
Remote learning needs to facilitate individual or whole class effective learning when children are unable to be at school in response to national concerns
'Leadboilers' Whole-school Writing
On July 2nd 2022, Linthwaite will see the return of the 'Leadboilers' Festival. Know who, or what, the Leadboilers were? No? Well, have a look through some of the writing produced across school, which will let you know a bit more about this fascinating local legend. More to come too ...
Formal Letter-writing
Years Five and Six have been writing formal letters this half term and have sent one to our local MP, Jason McCartney, inviting him to come along as a special guest of honour, to our tree-planting ceremony. Mr McCartney wrote to Linthwaite Ardron in the Autumn, inviting us to participate in the Queen's Green Canopy Initiative, to plant a tree to celebrate the Queen's Platinum Jubilee.
School then requested a tree from the Woodland Trust charity and we are delighted to have been given fifteen trees to plant in our school grounds.
Read Year Five's formal letter of reply to Mr McCartney's below. Thanks to Parker-Maye.
Art and History Poems - 'Guernica'
Year Five studied the artwork 'Guernica' by Pablo Piccasso using his monochrome technique and they then wrote some poetry based on their reactions to his painting. They are quite dramatic poems I think you'll all agree!
Year Five Figurative language
As well as being super scientists in their 'Earth and Space' topic, Year Five have been using figurative language to creatively write some 'out of this world' poems about the Moon. Using similes, metaphors, alliteration and personification, they have really conjured up some emotive images involving goddesses, wolves and motherhood to name just a few. 'One giant step' for their progress in writing; we are 'over the Moon' with these!
The Highway Man - Year 4 - Autumn 2021
Year Four's English work featured below is centred around the famous Alfred Noyes poem, 'The Highway Man'. The children have been exploring the language used in the poem and learning how to write extended noun phrases.
Handwriting
Congratulations and well done to the most recent recipients of Linthwaite Ardron's 'Golden Pen' awards. After spending last half term concentrating on forming a rounded, cursive script, they have finally passed our high standards of handwriting and have earned the honour of now being able to write in pen. We look forward to reading their beautifully presented writing across all subjects in school.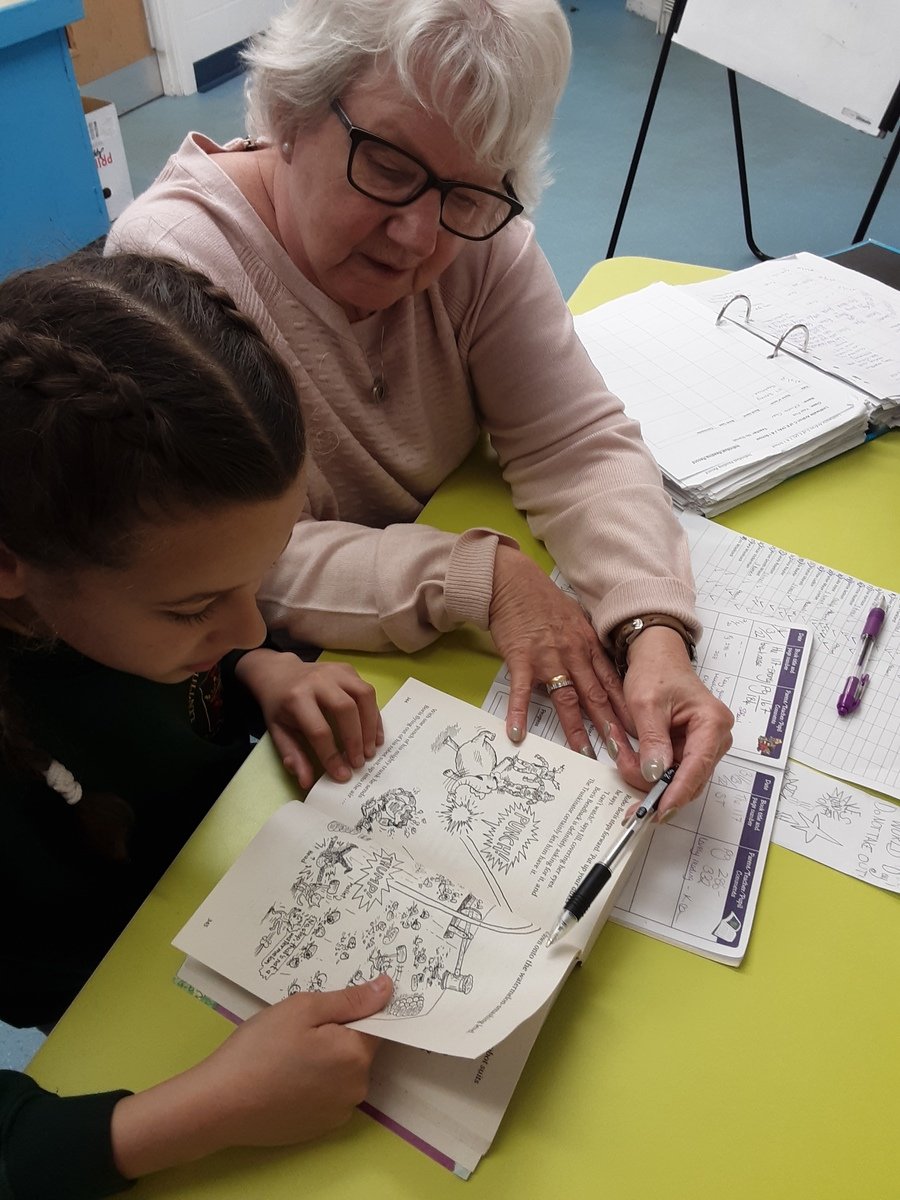 Reading Volunteers
Reading has always been a priority in school and we are always eager to improve even further. Having volunteers in school is invaluable in this and we are asking if any parents, grandparents, carers or even siblings could spare an hour a week to help hear our pupils read 1 to 1. If any siblings are at college, this is a super voluntary activity that counts towards their college enrichment activities and looks fantastic on university UCAS applications too. Full training will be given and it is a rewarding activity that the children love and really benefit from.
Contact Ms Starrett or the school office if you can help at all.Thank you!
'The Masked Reader'
As part of Linthwaite Ardron's World Book Day celebrations, the children all had great fun playing 'The Masked Reader' game: trying to guess which mystery member of staff was hidden behind the disguise and from which famous children's book they were reading. Can you guess who is reading in the clip below and which book it might be?
Kirklees Book Quiz - Huddersfield Town Hall
What a wonderful afternoon we had celebrating Kirklees' 10th World Book Day Quiz and the 25th anniversary of World Book Day.
Ms Starrett took eight of our greater depth readers along to Huddersfield Town Hall for the quiz, where they faced six grueling rounds of questions, based on a list of 20 set books. It was great to join over 30 teams from schools across Kirklees at Huddersfield Town Hall.

The 20-strong reading list featured fiction, poetry, non-fiction and picture books and the trophy was eventually awarded to Colne Valley High School Team A, so our Year Six pupils are now really excited about transitioning to a high school which puts reading at its core.

Local entertaining performance poet and storyteller Conrad Burdekin was compère, his books include Space Cafe, The Baked Bean Queen and the Hungrumptious Blumpfh. And Sienna deserves a special mention for winning a book by volunteering to learn and perform one of his poems. She was awesome!

We also had the privilege to meeting authors Dom Conlon and Jake Hope at the event. Dom's books Meet Matilda Rocket Builder and Swim, Shark, Swim! were featured on this year's reading list and were available to purchase and sign. Jake, a reading development and children's book consultant, has just released his debut picture book Cheesed Off!

Cllr Carole Pattison, Cabinet member for Learning, Aspiration and Communities presented the winning teams with their prizes of book tokens and the trophy for the winning team. The quiz also underlines the importance of reading for pleasure, that children are still reading; they enjoy and appreciate the power of a good story and deserve access to a high-quality, diverse range of books.
Next year's quiz will be on Thursday 2 March 2023 at Huddersfield Town Hall - year Five can't wait! See some photos below of the event.
School Book Fair 2022
Book, books and more books were the theme, when the Scholastic travelling book fair came to Linthwaite Ardron. All pupils in school visited the book fair, had a good look through the selection and wrote wish lists for their favourite books.
Parents and carers could then either come along to browse the selection of books in school or order online from home. A percentage of all books sold went to school, which means that school then got over £400 of free books for our class libraries. Have a look below at some of our enthusiastic bookworms (can you spot the cheeky title?)
World Book Day - March 3rd 2022
We all enjoyed one of our favourite days of the year in school; World Book Day, held on Thursday 3rd of March 2022.
Staff and children were invited to come to school dressed as characters from their favourite books and the day was packed full of reading and book-related activities, including an exciting 'Masked Reader' activity. A Year Six team entered the Kirklees World Book Day Quiz at Huddersfield Town Hall (see above) and were busy reading their way through the twenty books on the quiz list in preparation all last term.
'Recommended Reads'
We are often asked for help in suggesting appropriate reading books for our children. Click the link below for some great book suggestions, sorted into year groups and with links to buy copies for yourself.
https://www.thereaderteacher.com/
English at linthwaite Ardron CE

Viking character description
As part of Year Five's Viking and Scandinavia humanities topic, Year Five have written a selection of writing; kenning poetry, a narrative description of a Viking raiding Lindisfarne (based on the real-life raid of 793AD) and their own Norse myth. A selection of these are below. Only read on if you aren't squeamish!
Persuasive Writing - Linthwaite Travel Brochures
Come to sunny Linthwaite!
Following our Pilgrimage walk around Linthwaite, Upper Key Stage 2 all wrote tourist leaflets about our lovely local area, mentioning Florence Lockwood an early suffragette who lived nearby and local mill owner George Mallinson. Read all about it in these persuasive leaflets below.
Y5 Informal Letter Writing
Based upon their class reader 'Street Child', Y5 pupils have written letters in character as Jim Jarvis, the real-life urchin who inspired Doctor Barnardo. Listen to our dramatic story tellers as they read out their letters.
Year Six writing based on 'Holes'

Having read the book 'Holes' by Louis Sachar, Year Six wrote two pieces of writing; a narrative description of the Texan desert setting and a non-chronological report, where pupils designed their own Juvenile Detention Centre, based on Camp Green Lake, where the book's hero, Stanley Yeltatz is sent.



Year Six Informal Letter Writing
Year Six read the book 'Clockwork' by Phillip Pullman and then wrote a letter from the character Karl in the book. Have a look at their super work.
Examples of writing in Year 2
Please look at the photos below to see some examples of writing in Year 2 throughout the year. We have been working really hard to make sure our handwriting is neat, has the correct punctuation and uses interesting description.
Remembrance Day - November
Upper Key Stage Two studied the First World War poems 'Dulce et Decorum Est' by Wilfred Owen and 'In Flanders Fields' by John McCrae and came up with their own poem about the battlefields of Flanders. The series of lessons were very moving and thought-provoking and both texts are challenging to tackle, so we are very proud of the work that came out of this. Read them and think about the sacrifice of those young soldiers over 100 years ago.
World Book Day 2021
Everyone at Linthwaite Ardron celebrated World Book Day on March the 12th , with a fun and fabulous book-filled day.
Can you guess who Year Five have come dressed as?
As well as writing book reviews and blurbs, we had a whole school 'Guess Who?' quiz, a handwriting competition and designed our own favorite book covers.
Remote learning - Year Five reading comprehension - 'War Horse'
National Poetry Competition Winner
We have a prize-winning poet in our school! Congratulations to Kiki, winner of a national poetry competition organised by the Premier League and Primary All Stars earlier this summer.
Year Five all entered the poetry competition, set on the theme of ambition, using poet Karl Nova's poem 'Ambition' as their inspiration.
Kiki's poem impressed the judges so much that she won the Yorkshire and North of England region and her winning poem, on the theme of the environment, has been published in a book (read Kiki's fabulous published poem above). She shares her pages with footballing stars such as Rio Ferdinand and Alan Shearer, who have also contributed poems for the anthology.
Both Kiki and school have received fabulous prize goody bags full of books and stationary from the Premier League.
Year Five Informal Letter Writing
Year Five read the classic story 'Street Child' by Berlie Doherty, based on the real-life orphan Jim Jarvis, the penniless street child who inspired Dr Barnardo to form his charity.
In this writing they have written letters from the workhouse as Jim, begging to be rescued from the hell-hole. They are moving and emotive pieces of writing, please do have a read!
Please feel free to ask for paper copies of any information that you find on this
website from the school office.