Welcome to Year 3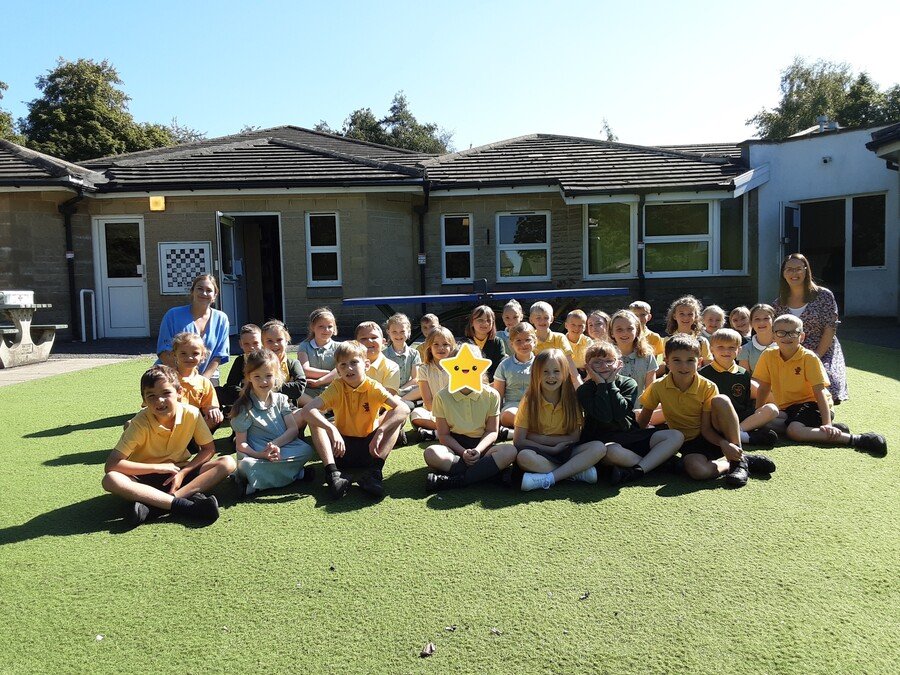 Our class teacher is Mrs Raimes and our teaching assistant is Miss Wood.
We are all looking forward to learning about lots of new things this year. Please read our class newsletter and look at our long term plan to find more detail about what we will be covering as part of our cross-curricular approach.
As always, if you have any questions or queries, then please feel free to contact me as I'm always happy to help.
Christmas Card Designs
The children have been busy creating their own Christmas cards! Here are some photos of their fantastic designs.
Plant Art
Here are the children's completed pieces of artwork inspired by the artist, Georgia O'Keeffe.
Pilgrimage - 28.9.23
On Thursday 28th September, we went on our annual pilgrimage around the local area. This year's theme was 'Showing God that we are thankful for what he gave us by taking care of the world that he provided for us'. We had a wonderful time looking at our beautiful surroundings and reflecting on our thoughts about God and his creation. Here are some photos from this year's pilgrimage.
Geography - The UK
This half term, we have been learning all about the UK in geography. The children have been taking a look at the geography of the UK - from the physical features of mountains, rivers and seas to the man-made administrative regions and counties. Here are photos of them using atlases to locate areas of high ground in the UK.
Ian's Mobile Farm - 22.9.23
On Friday 22nd September, we had a fantastic time visiting Ian's Mobile Farm. Ian brought lots of animals for us to see which the children loved learning all about. He brought a tortoise, guinea pigs, rabbits, ducks, a rooster, goats, sheep, alpacas and his sheepdog, Meg. Here are some photos from our visit.
Art - Plant Art
This half term, the children have been inspired by the artwork of Georgia O'Keeffe, who was well known for using water colours and colour mixing to paint the flowers she had so loved when she was younger. The children have been developing their technique in using brushes to experiment with light and dark shades of a colour. Here are some photos of them putting their skills into practise to paint different types of flowers.
Computing - Coding
This half term, we have been learning all about coding. The children have been learning how to use flowcharts in computer programming, how to use different
types of timers for different purposes and how to use the repeat command. They have then used what they have learned in order to design and create their own interactive scene. Here are some photos of them using 2Code on Purple Mash.
Outdoor Learning Day - 15.9.23
On Friday 15th September, our class had their first Outdoor Learning Day of the year. We had lots of fun learning and working outside!
First, we did lots of activities linked to our RE unit for this half term, 'What do Christians learn from the creation story?' The children explored our school grounds, collecting as many 'wow factors' in nature they could find to stick on their own nature paint palette. In pairs, they were then asked to take a photo of something that has the 'wow factor' from both the natural and the human-made world. In the afternoon, we then set up our own obstacle course in the vicarage garden. The children were given the challenge of making their way through this whilst blindfolded, with someone else guiding them through it. This helped them to think about how Christians let their Creator be their guide through life; they do best when they listen to God.
Next, we did some work on place-value, linked to the work we have been doing in maths this half term. The children were given the challenge of finding natural items in the playground to represent hundreds, tens and ones, in order to make their own 3-digit numbers. They did an excellent job with this, using things such as leaves, twigs and stones to represent their numbers.
In English this half term, we have been reading the book 'Mouse Bird Snake Wolf' by David Almond. This inspired the children to create their own creatures, as the children do in the story, using a variety of natural materials found in the Wildlife Area. They had great fun doing this and did an amazing job with this activity.
As well this, we did some orienteering. The children started learning how to set/orientate a simple map and keep it set whilst on the move. Although they found this quite tricky at first, they had great fun navigating the cones.
Here are some photos from our Outdoor Learning Day.